GARMIN Forerunner 45 - Black/White | Chemically Strengthened Glass | Sunlight-visible
A RUNNING WATCH THAT WON'T WEIGH YOU DOWN
Forerunner 45S is the smaller-sized GPS running watch with all the running-related features you need in a sleek, lightweight smartwatch you'll want to wear all day and night.
Monitors heart rate at the wrist
1
, because a finger on the pulse is so old school.
For concrete proof that you crushed it, GPS tracks pace, distance, intervals and more.
Get yourself on the road to glory with free Garmin Coach adaptive training plans.
Say goodbye to missed texts with smart notifications2 delivered right to your wrist.

We've got your back with built-in incident detection and assistance features.
 Log more miles between charges up to 7 days of battery life
DESIGNED FOR RUNNERS - Run far with a smaller-sized lightweight watch that fits comfortably and won't hold you back.
LIGHT AND SPORTY MATERIALS - The sweat-ready silicone band makes chafing a thing of the past.
Put your running performance first.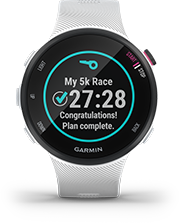 GARMIN COACH - 
These adaptive training plans feature guidance from expert coaches and free training plans that adapt to you and your goals. Workouts sync right to your watch.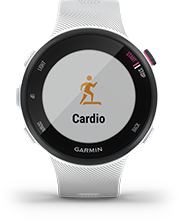 BUILT-IN SPORTS APPS - 
Switch up your workout routine with activity profiles for cycling, treadmill running, indoor track, elliptical, cardio, yoga and more.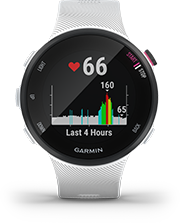 WRIST-BASED HEART RATE - 
Get heart rate data
1
along with alerts if your heart rate stays too high or too low while you're at rest. Gauge how hard your heart is working during activities, even underwater.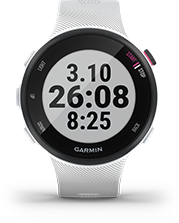 BUILT-IN GPS - 
Track where you run, and get accurate stats, including distance, pace and intervals.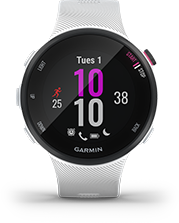 BATTERY LIFE - 
Run to your heart's content with up to 7 days of battery life in smartwatch mode and up to 13 hours in GPS mode.
Keep tabs on wellness.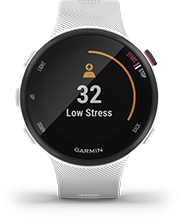 STRESS TRACKING - 
Find out if you're having a calm, balanced or stressful day. Relax reminders will even prompt you to do a short breathing activity.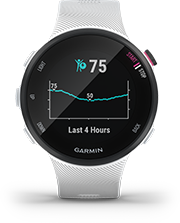 BODY BATTERY™ ENERGY MONITOR - 
Track your body's energy levels so you can find the best times for activity and rest.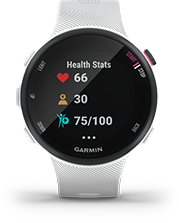 FITNESS TRACKING - 
While you're out and about, Forerunner 45S tracks steps, intensity minutes and more.
Wherever you go, stay connected.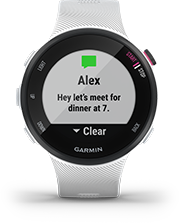 SMART NOTIFICATIONS - 
Receive emails, texts and alerts right on your watch when paired with a
 compatible smartphone.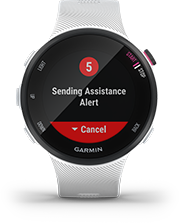 SAFETY AND TRACKING FEATURES - 
If you feel unsafe or if your watch senses that an incident occurred, assistance and incident detection features
3
send your location to emergency contacts.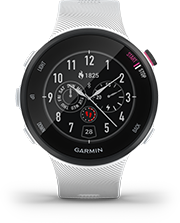 CONNECT IQ™ STORE - 
Download custom watch faces, add data fields, and get apps and widgets from the
 Connect IQ store
.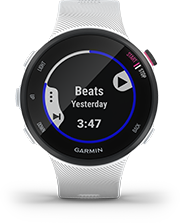 MUSIC CONTROLS - 
Easily control the music playing on your phone, so you can skip songs without missing a beat.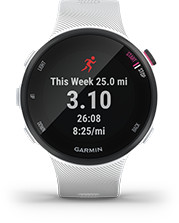 SYNCS WITH GARMIN CONNECT™ - 
Upload your activities to the
 Garmin Connect app
to interact with a thriving online community where people on the go can connect and compete — and even share their triumphs via social media.
Features
Overview:

 
The Garmin Forerunner 45S is a lightweight, stylish running watch with a high-sensitivity GPS receiver which accurately records the distance, time, speed, and location of your runs. You can also use it to simply count your steps during an activity or throughout the day. The watch has the Elevate™ built-in wrist heart rate monitor which helps you meet your health goals. The device keeps track of your personal records, and lets you know when you have set new ones. The Forerunner 45S provides constant feedback, including the distance traveled, elapsed time, pace, lap time, speed, and your heart rate. After your run, you can upload your results to the Garmin Connect online community.
Versions:
The Garmin Forerunner 45S comes with a 39mm (1.55") diameter case, and is available with White or Iris bands. It fits wrists with a circumference of 4-7/8" to 7-1/4" (124mm to 185mm). A larger version, the Forerunner 45, comes with a 42mm (1.65") diameter case and a choice of Black or Lava Red bands. The Forerunner 45 fits wrists with a circumference of 5" to 7-3/4" (129-197mm).
Water Resistant:

 
The Forerunner 45S has a 5 ATM water rating, which means it is resistant to moderate moisture contact. Not only can you run in the rain and wet weather, you can even swim or shower while wearing the device. The device also has a wide operating temperature range of -4° to 140°F.
LCD Screen:
The Forerunner 45S features a 1.04" diameter LCD screen with a resolution of 208 x 208 pixels. The display has a backlight timer that can be set to 8 sec, 15 sec, 30 sec, or 1 minute.
High-Sensitivity GPS Receiver:
The unit features a high-sensitivity GPS receiver which will stay locked onto satellites, even near tall buildings or under tree cover. By default, the devices uses the U.S. Global Positioning System (GPS) to locate overhead satellites. When you're in locations with poor sky visibility, you can use a combination of GPS and GLONASS (Russian satellite system), or GPS and Galileo (European Union satellite system) to obtain a more accurate position. Using GPS and another satellite system together will reduce battery life more quickly than using GPS alone.
Rechargeable Battery:
The Forerunner 45S has a built-in Lithium-Ion rechargeable battery, which will give you up to 13 hours battery life in GPS mode. When not using GPS, the device has a battery life of up to 7 days in watch mode with smart notifications, activity tracking, and wrist heart rate. A 21" data/charging cradle is provided for charging the battery and uploading your training data. It takes approximately 2 hours to fully charge a depleted battery.
Add-on Sensors:
The Forerunner 45S can be used with wireless 2.4 GHz ANT+ add-on sensors, such as the optional chest-worn
 Heart Rate Monitor
, Foot Pod, Bike Speed, or Cadence Sensor.
User Profile:

 
The Garmin Forerunner 45S uses information that you enter about yourself to calculate accurate training data. You can modify the following user profile information: Maximum Heart Rate, Gender, Birth Year, Height, and Weight.
Move Alert:
Sitting for prolonged periods of time can be harmful to your health. You can set the Forerunner 45S to simply remind you to move. The Move Alert is a timer that is triggered after one hour of inactivity. When the alert is triggered, the move alert is reset only after a couple of minutes of continuous activity, such as a short walk.
Health Stats Widget:
The Health Stats widget gives you instant feedback on your health data. At a glance, you receive your current heart rate, stress level, and Body Battery Level. The stress level is the result of a 3-minute test performed while standing still. The Forerunner measures your heart rate variability to determine your overall stress, expressed within a range of 1 (Low) to 100 (High). If your stress level is high, you'll be prompted to start a relaxation activity. The Body Battery level is like a gas gauge for your car, indicating the amount of your available reserve energy. The device analyzes your heart rate variability, stress level, sleep quality, and activity data to determine your overall Body Battery level. Your level is expressed in a range between 0 and 100, with low (0-25), medium (26-50), high (51-75), and very high (76-100) reserve energy designations. In addition, you can view your heart rate, stress level, or Body Battery level over a specific period, if desired.
Heart Rate Alerts:
When using an optional chest-worn Heart Rate Monitor or the built-in wrist-based HRM, you can set the Forerunner 45S to alert you when your heart rate is above or below a target zone or a custom range. Each time you exceed or drop below the specified range or custom value, a message appears on the display. The device will also beep if audible alerts are engaged.
Auto Lap:

 
Auto Lap automatically marks a lap after every mile. This feature is helpful for comparing your performance over different parts of an activity. Each time you complete a lap, the device will beep or vibrate, and the lap time is displayed.
Auto Pause:
You can set the Forerunner 45S to pause the timer automatically when you stop moving, or when your pace drops below a specified value. This feature is helpful if you have to stop for traffic or to tie your shoe during your run.
Sleep Tracking:
If you wear the Forerunner 45S while you are sleeping, the device automatically measures your sleep time and your movements. Sleep statistics include: total hours of sleep, sleep levels, and sleep movement. Your sleep statistics can be uploaded and viewed on your Garmin Connect account.
Garmin Connect:
After you complete and save an activity to the Forerunner 45S, you can upload the data to Garmin Connect, the online tool for tracking, analyzing, and sharing your health and fitness activities. You can view the results of each activity, along with detailed analysis of your progress. Garmin Connect compiles your weekly, monthly, and yearly averages of your activities and health stats, and earn badges for meeting your goals or other accomplishments. You can also connect with your friends and share your results, or even compete with them in like activities. Garmin Connect is compatible with iOS (requires version 11.0 or later) and Android devices (version varies with device). Versions are also available for Windows (Windows 7 SP1 or newer) and Mac (OS X 10.11 or later).
Garmin Coach:
Part of your Garmin Connect account includes access to the Garmin Coach where you can download custom training plans to your device. Whether you're training for better overall health or a half-marathon, you'll receive a dynamic training plan designed by a professional coach. Each day's activity is displayed on your device, and prompts you to schedule and start it.
Bluetooth Connected Features:
The Forerunner 45S has Bluetooth Smart technology and many connected features for your compatible smartphone or mobile device. The Forerunner 45S is compatible with iOS and Android devices. Some features you can enjoy include: activity uploads, audio prompts, Find My Phone, Find My Watch, music controls, phone and email notifications, safety and tracking features, social media interactions, software updates, weather updates, and workout downloads.
Watch Functions:
When you're not working out, the Forerunner 45S can be used as a basic watch, displaying the time and date, along with an alarm. The time and date are automatically set by the GPS receiver (or manually, if desired), and can be displayed in 12-hour or 24-hour format. You can change the appearance of the watch face by selecting different colors and layouts. Custom watch faces are also available from the online Connect IQ store.
LENS MATERIAL
Chemically strengthened glass
STRAP MATERIAL
Silicone
PHYSICAL SIZE
Small: 39.5 x 39.5 x 11.4 mm
Fits wrists with a circumference of 124-185 mmLarge: 42 x 42 x 11.4 mm
Fits wrists with a circumference of 129-197 mm
COLOUR DISPLAY
Yes
DISPLAY SIZE
1.04″ (26.3 mm) diameter
DISPLAY RESOLUTION
208 x 208 pixels
DISPLAY TYPE
Sunlight-visible, transflective memory-in-pixel (MIP)
WEIGHT
Small: 32 g
Large: 36 g
BATTERY LIFE
Smartwatch Mode: Up to 7 days; GPS mode: Up to 13 hours
WATER RATING
5 ATM
MEMORY/HISTORY
200 hours of activity data
*WARRANTY
1 Year Manufacturer's Warranty against defects of manufacture.