POLAR Ignite 2 Small/Medium - Pink/Rose Gold
The Polar Ignite 2 fitness watch is sleek, simple and smart. Get personalized guidance for workouts, recovery and sleep – in a beautifully designed watch that looks and feels good 24/7.
Sizing:
Rose Gold & Pink: S, wrist circumference 140-200 mm
Other colors: S-L, wrist circumference 130-210 mm
CONFIDENCE IN ACTION
CONFIDENCE THAT'S READY-TO-WEAR
Glow up with Ignite 2! Choose from a variety of colors and accessory bands to fit your personality perfectly. Change the watch face to match your current mood and feel confident in any situation.
GET STRONG, STAY HEALTHY
Stay motivated and crush your goals. With personalized guidance for your workouts, sleep and recovery you can understand your body better and form healthy habits that work for you.
THE TECH THAT HELPS YOU STAY ON TOP
Create the lifestyle that gives you confidence with the help of our fitness tracking, sleep and recovery insights. With added features like music controls, weather forecast and push notifications – you have everything you need to come back stronger.
STAY TRUE TO YOUR STYLE
FITNESS WATCH ESSENTIALS
Wrist-based heart rate & built-in GPS
BIG DREAMS NEED GOOD SLEEP
Recovery & sleep tracking with Nightly Recharge™
WORKOUTS THAT WORK FOR YOU
FitSpark™ daily training guide
MUSIC TO YOUR EARS
Music controls
KEEP CONNECTED
Phone notifications
ADD A TOUCH OF COLOR
Customize with wristbands and watch faces
FEATURES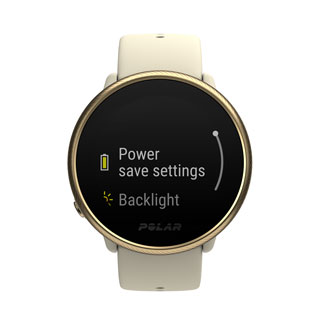 Long battery life - 
Polar Ignite 2 gives you up to 5 days in watch mode, or up to 20 hours of continuous training time.
Integrated GPS - 
GPS, GLONASS, Galileo and QZSS with assisted GPS for fast fix times.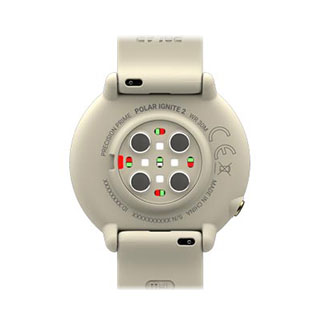 Advanced wrist-based heart rate - 
Polar Ignite tracks heart rate with the Precision Prime™ sensor fusion technology.*
Nightly Recharge™ - 
The Nightly Recharge™ recovery measurement shows you how well you recover from the demands of your day during the night.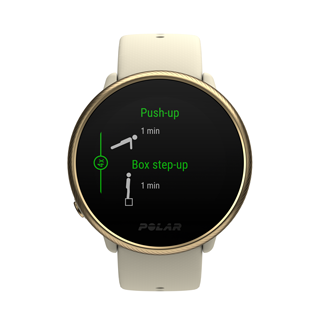 FitSpark™ - 
Get ready-made daily workouts that match your recovery, readiness and training history.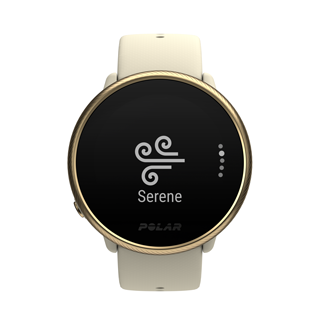 Serene™ breathing exercise - 
Relax your body and calm down your mind with the help of a guided breathing exercise.
Phone notifications - 
Stay connected with notifications from your phone. Get alerts for incoming calls, messages, emails, calendar events and more.
Music controls - 
Easily navigate around your playlist and adjust volume straight on your watch. You also get a weather forecast and push notifications to your watch screen.
Energy Sources - 
See how your body uses different energy sources during a training session. Polar Ignite 2 divides your energy usage into carbs, proteins and fats.
Weekly Summary - 
Easy access to your weekly training stats, history and plans, straight on your watch.
Watch face color themes - 
Choose the color of your watch face from multiple options and match with your wristband.
Weather - 
Check current weather info and a 2-day forecast straight on your watch.
Running Program - 
Get a personal and adaptive training plan that fits you and your goals.
Swimming metrics - 
Polar Ignite 2 automatically detects your heart rate, swimming style, distance, pace, strokes and rest times. Distance and strokes get tracked also in open water swimming.
Sport profiles - 
Polar Ignite 2 supports over 130 different sports. Add your favorite sports to your watch in Polar Flow and customize what you see on your watch during each sport.
Heart rate sensor mode - 
Use your Polar Ignite 2 to track and display live heart rate on apps, Bluetooth-compatible gym equipment or Polar Club.
POLAR FLOW
The Polar Flow app and web service is the home of your training, activity and sleep data.
Plan and analyze your training - Plan all your training from individual workouts to full season plans and get to the heart of your performance with the extensive training analysis tools.
Keep track of your sleep and daily activity - See your sleep stats and get tips on how to reach your daily activity goal.
Share with your PT -  Share your training data with your personal trainer or coach with the free Polar Flow for Coach service.
SPECIFICATIONS
35 g with wristband, 21 g without wristband.
Gesture-activated color touch display (IPS TFT) with ambient light sensor (ALS). Always-on option in training mode. Resolution 240x204. Dragontrail glass lens.
165 mAh Li-pol battery. Battery life up to 20 h in training mode (GPS and wrist-based heart rate) or up to 5 days in watch mode with continuous heart rate tracking. The multiple power save options boost the battery life all the way up to 100 hours.
Glass fiber reinforced polymer case. Stainless Steel bezel & button.
Silicone, Stainless Steel buckle.
Sizing:
Rose Gold & Pink: S, wrist circumference 140-200 mm
Other colors: S-L, wrist circumference 130-210 mm. Two wristband size options included in the package.
Integrated GPS, GLONASS, Galileo, QZSS. Assisted GPS for fast fix times.
Bluetooth Low Energy (BLE). Custom USB cable for charging and data synchronization.
Time & date. Alarm with snooze. Stopwatch & countdown timer.
English, German, French, Italian, Dutch, Norwegian, Spanish, Portuguese, Swedish, Finnish, Danish, Polish, Russian, Turkish, Indonesian, Czech, Japanese, Chinese (simplified)
Compatible with Polar BLE heart rate sensors.
Water resistant 30 m (ISO 22810, suitable for swimming)
Can be set up and used without other devices or connections (limited memory capacity for data storage). To access all features, functionalities and unlimited cloud storage, connect your watch to Polar Flow, our free app and web service and the home of your sports and fitness data.
IN THE BOX
POLAR IGNITE 2
Polar Ignite 2 fitness watch
Wristbands (One size, S: Rose Gold & Pink. Two size options included, S-L: Gold & Champagne, Storm Blue, Black Pearl)
Charging cable
Polar Ignite 2 user manual
Information note